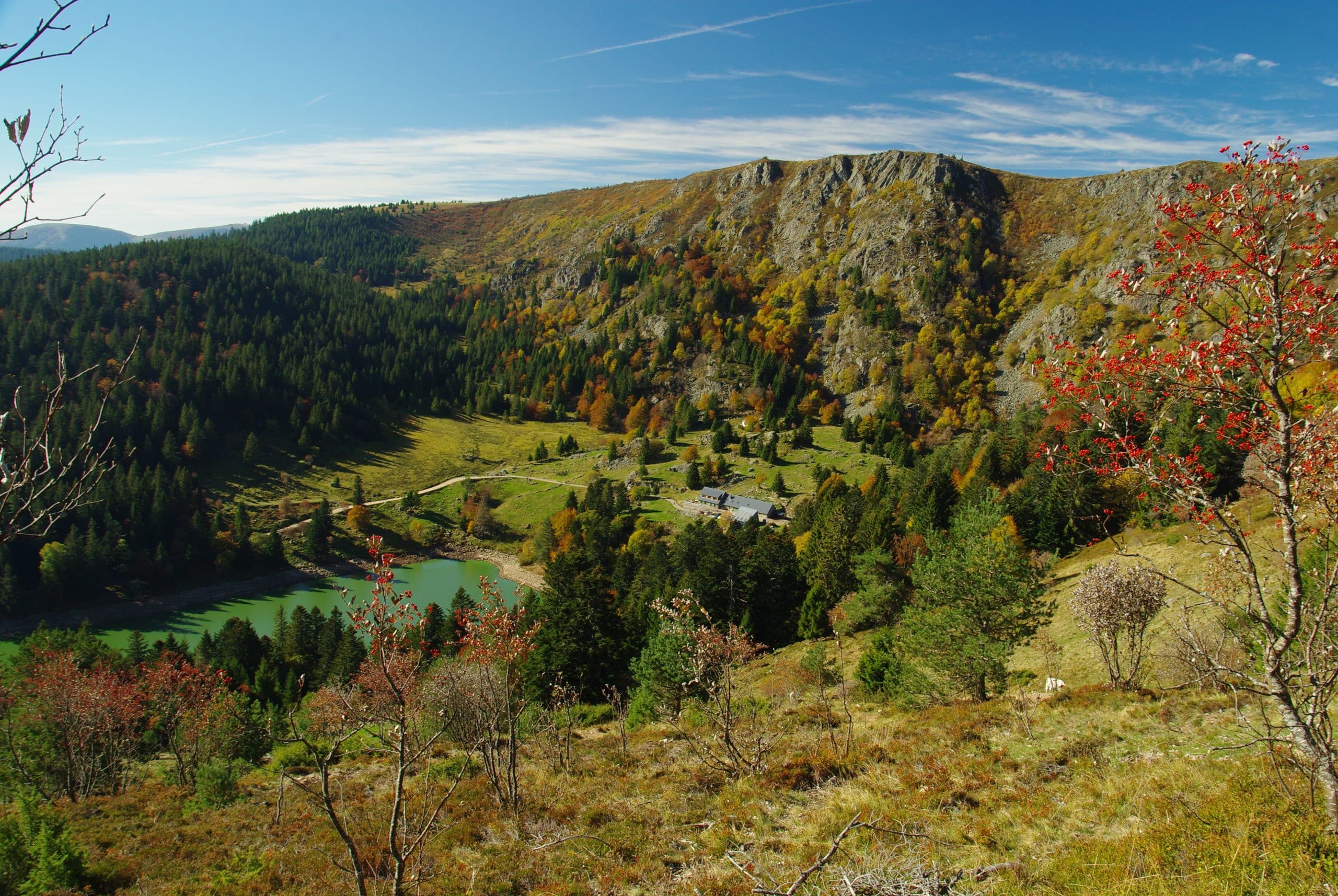 FAQ
Discover the Frequently Asked Questions of our camping Belle Hutte in La Bresse
In order to prepare your stay in the Vosges we have listed your most frequent questions. If you haven't found the answer to your question, please contact us at contact@campingbellehutte.com.
Reservation
How do I make a reservation?
Directly on our website, availability in real time
Are you Vacaf approved?
We are not a Vacaf partner
Do you accept vacation vouchers?
ANCV (sending required) and ANCV connect cheques accepted
What payment methods do you accept?
ANCV cheques, ANCV connect, credit card, bank transfer
Is it possible to pay in installments?
Payment in installments in 3X
When do I have to pay the balance of my reservation?
You pay 25% when you order. To validate your reservation request, the balance must be paid 30 days before arrival.
How to cancel a reservation?
Written notification required (e-mail or mail)
Are minors accepted?
They must be accompanied by adults
Location
Do I need to make a reservation for the campsites
It is highly recommended to book during the summer vacations
Can we come to the campsite at Christmas-New Year?
Lodging rentals from December 16 to September 30 / Campsites from February 10 to March 5 and from May 12 to September 17
What type of electrical outlet on the sites?
Is it possible to rent a fridge for campers?
We do not offer this service / Freezer for Freez-Pack available
Is there a motorhome service point?
Access to the water/drainage station is included in the package
Is there an outdoor area for campers?
There is no camper area, only pitches in the campsite
Are there specific sites for motor homes?
all pitches are suitable for tent, caravan and motor home
Is it possible to refuel with gas at the campsite?
We exchange your cylinders: camping gas and finagaz. Other brands are available downtown (9 km).
Are there high comfort pitches?
There are several drinking water points in the summer, but no comfortable pitches. All pitches have electricity (a minimum 25m extension lead and a European plug are required).
Is there a place for my car on my site?
your vehicle must be parked in your space
Are pets allowed in the campsite?
Is it possible to choose a camping place?
You choose your own location on arrival
Services/Animations
Is there a laundry in the campsite?
The washing and drying machines (with tokens) are in the common sanitary facilities of the campsite
Do you propose animations at the campsite?
Leisure facilities (swimming pools, playgrounds) are freely accessible and unsupervised
Do you have a kids club?
we do not offer this service
Are there any shops in the campsite?
Grocery store with fresh and local products, only during school vacations
Can we rent bicycles on site?
Bicycle rental companies in the area: La Bresse-Hohneck resort, Sports Passion, O2 Sports…
Is the pool open in May?
The aquatic area is only open from mid-June to mid-September.
When can I enjoy the bouncy castles?
Inflatable structures and trampolines are available in July and August
Is the pool heated?
Swimming pool open and heated from mid-June to mid-September
Is the pool supervised?
Swimming is not supervised, children are under the responsibility of their parents
Surroundings
How far is the campsite from the bicycle paths?
Mountain bike on site / Bicycle path in the center of La Bresse at 9km.
What is the nearest village?
Downtown La Bresse 9km, Xonrupt-Longemer 11km, Gérardmer 15km.
Can we swim in the lakes?
You can swim in the Lake of Blanchemer (1.5 km), Lac des Corbeaux (6 km), Lac de Longemer (7 km), Lac de Gérardmer (15 km).
Are there marked trails from the campsite?
There are several hiking/biking/snowshoeing trails starting from the campsite. Trail maps are posted at the campground and we sell IGN maps of the area.
Can I buy ski passes/rent skis at the campground?
We offer snowshoe rental, you can rent alpine skis at the resort (200m) or alpine/deep slope skis at our partner La Scierie at 5 km. Moreover, you can buy the passes at the station (500m) or online.
Labels
Tourism&Disability Label
we are committed to facilitating your stay in a campground or cottage
What are the concrete actions required to obtain the Green Key and Regional Natural Park Value labels?
We have always been committed to environmental actions (low energy, water and waste consumption, valorisation and attachment to the territory, sale of local products, green spaces…), we need you to help us!
What are the most suitable accommodations if I have mobility problems?
The 35m² accessible chalets of course, as well as the 30m² and 35m² chalets (without stairs, showers in cabin).
Do you have any PRM accommodation?
3 accessible chalets with the Tourism&Disability label
Arrival/Departure
Can we arrive outside the opening hours of the reception?
Reservation required for late arrival – Contact us
My pitch is available from 1.30 pm, is it possible to arrive earlier at the campsite?
It is not possible to arrive before 1:30 pm
My accommodation is available from 4:30 pm, is it possible to arrive earlier in my rental?
You can go to the reception from 2 pm to know if your accommodation is ready
Do we have to make an appointment for the departure of the rental?
Return of the keys to the reception at the time indicated in the contract.
At what time should I return the key to the accommodation?
before 9:30 am for accommodations >= 3pers / before 10:30 am for accommodations =2 pers.
Until what time can I enter the campsite with my car?
traffic is prohibited from 10 pm to 7 am.
What are the arrival/departure times?
Reception of lodging rental : from 4:30 pm to 7 pm / Reception of camping site rental : from 2 pm to 7 pm.
Departure: in camping before noon / in accommodation 3 to 7pers before 9:30 am / in accommodation 2pers before 10:30 am
When can I get my deposit back?
The deposit is cancelled within 10 days after your departure
What to do in case of late arrival?
Do I have to give a deposit at the time of installation?
The deposit must be paid via Visa or Mastercard (PLBS system) on site or in advance by phone. The reserved amount is not charged and will be cancelled within 10 days after the end of the stay.
Rental
Is it possible to rent several cottages to gather with friends/families?
The maximum capacity of our accommodations is for sleeping and meals, it is not possible to group together for meals in particular (think of group lodgings!).
Is it possible to rent a baby bed or high chair?
Proposed as an option when booking
Are sheets and towels provided?
Is the accommodation equipped with a television?
Can I park a second vehicle near my accommodation?
up to 2 vehicles for accommodations ≥ 5 persons
Do unusual accommodations have sanitary facilities?
All our chalets and unusual accommodations have private sanitary facilities.
Is there heating in the accommodation?
All our accommodations are insulated and heated
Which accommodations are equipped with walk-in showers (excluding cabins)?
Chalets 35m² accessible, Roulottes Viticoles, Duplex 55m².
Is my dog allowed in the rental?
1 animal maximum is allowed in the chalets only – Not allowed in unusual accommodations
Is it possible to choose your accommodation?
You can tell us your preference, we will do our best to satisfy you
Do you offer cleaning packages?
You can book them in advance or on the spot (kitchen cleaning not included)
Can I put a tent next to the accommodation I have booked?
Camping equipment (tents, caravans, motor homes, arbors, etc.) are not permitted in the areas reserved for rental accommodation
Shops/Services
How far is the campsite from the nearest shops?
Grocery store and fresh bread on site (school vacations only) / Shops in La Bresse city center 9 km
Where is the nearest train station?
Remiremont 42 km, Colmar 44km, St-Dié-Des-Vosges 38km
How far are you from the nearest airport?
Mulhouse Basel Euroairport 84km
Can we come to the campsite without a car?
Not recommended because there is no public transportation
Where is the nearest ATM?
La Bresse-Hohneck resort (school vacations) / La Bresse town center 9km
Where are the nearest markets and when are they held?
every Sunday in La Bresse, Thursday and Saturday in Gérardmer
Is there a shuttle/public transportation?
There is a shuttle bus only during the winter vacations which allows you to go to the center of La Bresse at 9 km (stop at 500m).
Various
Is there a camping brochure?
for the preservation of the environment there is no documentation
What does cancellation insurance cover?
Where can I find the price list
How to get around in winter?
The equipment (winter tires or chains) is mandatory from November to the end of March in the mountain areas. Remember to arrive before 8pm (roads are only clear from 7am to 8pm).
Do visitors have access to the campsite pool?
Visitors do not have access to recreational facilities (swimming pools and playgrounds)
Am I allowed to invite family or friends? If so, is there a charge?
Visitors are allowed to enter after paying the fee at the reception desk
Is there wifi in the campsite?
Free wifi but very low speed
Are visitors accepted?
Visitors are allowed to enter after paying the fee at the reception desk (15€/pers/day)
Are barbecues allowed on the campsite?
Electric, gas or charcoal barbecues only allowed – Wood fires prohibited
Do you lend barbecues?
No you must bring your own barbecue